Be The Center of Attention
At Mystic J, we believe in the power of self-expression through fashion. Our pieces are designed to help you express your unique style and personality. So, embrace your inner royalty and be the center of attention with Mystic Jewelry!
Shine Bright Like A Diamond

The Avant-garde statement Leo choker adds a luxurious touch to your glamorous look. It is wearable art with a sparkling Diamond converting you into the center of attention. Wear it with other Leo accessories from Astrology Collection and create a sophisticated, timeless look.

The unique designs of Leo Jewelry are inspired by the most royal zodiac sign, Leo. The Leo symbol is the lion, king of the jungles, primarily representing bravery and playfulness. Leo also symbolizes love and passion. The Leo zodiac sign stands out with qualities like self-confidence, determination, passion, optimism, productivity, and creativity. We created offbeat designs to translate the outstanding features of the Leo zodiac sign into fashion mystic jewelry by combining the Leo and sun symbols.

Be the center of attention with Mystic Jewelry!

Unique Design
 All our unique jewelry is copyright designs of Mystic J. Each piece we design tells the story; every curve and line is put there with the intention. 
Ethically Handmade 
 All the processes, from sketching to jewelry making, are fully and ethically handmade, including the packaging, Mystic Boxes, by expert artisans in safe and quality working conditions. Learn more
Precious Metals 
We only used high-quality materials, such as recycled solid Sterling Silver 925-950, 18K-24K Gold, and other precious metals and stones. 
Nickel Free
All our items are hypoallergenic. The materials we use are 100% free nickel and zinc.
Engraved with Mystic J Logo
Our jewelry is engraved with the Mystic J logo and metal purity if the item's surface is not too small.
Limited Edition
Since we are an ethical brand, we only manufacture fully handmade products; we don't have mass production. So we issue the jewelry in a limited number.
Made to Order
Our jewelry is mainly made to order since pre-made jewelry is issued only in small quantities.
As Unique As you
Since all processes are done by hand, and each item is made exclusively for each customer, variation in the final product should be expected. Hence there will be some slight a difference in product dimensions. 
Since all our pieces are fully and ethically handmade, we only issue the jewelry in a limited number. Accordingly, most of our pieces are made-to-order, so if the piece is available you'll receive it 3-5 days, otherwise allow 2-3 weeks for us to craft your unique Mystic Jewelry.
🖤All Mystic J orders are shipped with insurance via FedEx , DHL or correo españa and require the recipient's signature upon delivery.
🖤 European orders over 200 € are shipped for free
🖤 European Orders below 200 € are charged a flat rate of 10 €
🖤All our shipments are sent from our headquarter in Alicante, Spain.
Your beautiful jewelry by Mystic J can last a lifetime with proper care since we only use precious metals and stones.
Whether you wear your pieces every day or save them for special occasions, you might notice that eventually, your jewelry has lost some of its brilliance. Fortunately, you can restore your pieces to their original shine and sparkle. 
There are a few general steps you can take to care of your jewels:
1. Your jewelry should be the last thing you put on and the first thing you take off.
Put jewelry on after applying hairspray and makeup. Perfumes, hairspray, lotion, and makeup usually contain harsh chemicals that can damage your beautiful jewelry. By waiting until you are all done with your beauty routine, you can avoid potential damage.
Always take off your jewelry first; this will ensure that your clothing does not snag on your sweater or T-shirt during the removal process. Inadvertent tension on the necklace while removing the shirt can cause the chain or rope to break! 
2. Remove your jewelry during activities.
We recommend taking off your jewelry while sleeping, taking a shower/bath, working out, swimming, going to a (hair)salon, cleaning. Since cleaning products can damage your jewelry or you might get it entangled somewhere. So take off any jewelry you wear and store it safely), and also sun 'tanning' or going out in direct heat or hard sunlight (because this might tarnish your jewelry or fade gemstones).
3. Carefully clean jewelry before storing.
We recommend cleaning your jewelry before storing it. Storing jewelry without removing dirt, oils, and other substances from your pieces can cause damage over time. You can clean your jewelry with a jewelry cleaning cloth after each use
4. Store your jewels correctly. 
Keep your jewelry secure in Mystic J's original boxes, sines our packaging is designed to store your jewelry most securely. But do not store damp or wet jewelry. Damp jewelry can tarnish or corrode depending on the material, and it will create a humid environment in storage, which you should avoid for most pieces. 
Avoid storing jewelry in your bathroom because the humidity will have the same impact as leaving your pieces wet. We recommend also putting a piece of chalk or a bag of silica inside your jewelry box; it will absorb moisture and keep your jewelry clean longer. Change it for a new one every couple of months. In addition to all that, you can use a Ziploc or sandwich bag with the air squeezed out to prevent oxidation.
Besides, it is important to clean your jewelry appropriately. We recommend using different cleaning methods on other materials. You can regularly clean all your jewelry easily at home.
Sterling silver jewelry can be washed in warm water with baking soda or with soap softly, of course, if it isn't black or oxidized silver. Then use a jewelry cleaning cloth and be sure to dry silver diligently as leaving it wet can cause tarnishing. 
To clean your Gold jewelry, we recommend soaking it in warm water with a little mild dishwashing soap for 20 to 40 minutes. If needed, use a soft cloth or soft toothbrush to rub or wipe the jewelry. The purer the gold in jewelry, the more prone it is to scratches, so be gentle while cleaning. Then carefully dry with a paper towel or jewelry cleaning cloth.
Platinum, like pure gold, this material will not tarnish. However, Platinum can still scratch, though it will not wear down over time. Treat this metal with soap and water, and then dry it with a paper towel or jewelry cleaning cloth. Take it to a professional for polishing if you would like your article to have its original shine.
You can clean your White Gold in the same way as your gold jewelry. Regular cleaning helps maintain shine and luster, but white gold jewelry begins to show its original yellow or gold color with excessive wear. Take your white gold jewelry to a professional once the original plating wears off, and a technician can re-plate these pieces.
Clean your Rhodium plated jewelry with warm water and mild liquid soap. Rinse and dry with a soft polishing cloth immediately to avoid mineral residue from the water. Never use any chemicals on your rhodium items. Never use toothpaste and never brush with a toothbrush.
While Diamonds add a radiant touch to any look, wearing diamond jewelry daily or regularly contributes to clouding. Dust and pollution over time also dull the brilliance of your diamonds. We recommend cleaning your diamonds with a mild dish soap water solution. Be sure to use a basic dish soap that does not contain detergents, as those could cause damage to your jewelry. Soak your diamond jewelry in a solution for about 20 to 40 minutes, gently brush the stone with a very soft toothbrush, and then rinse under warm running water.  
Ultimately, you can always take your jewelry to a professional for repairing or polishing. But the best method to clean your jewelry at home remains water soap solution. This is a good go-to method, mostly for all types of jewelry.
---
Shine Bright Like A Diamond
Leo Diamond Choker
Experience the allure of our Avant-garde Leo Diamond Choker. This statement piece is more than just an accessory; it's wearable art that adds a luxurious touch to your glamorous look. Adorned with a sparkling diamond, this choker is designed to make you the center of attention, perfect for those searching for unique, astrology-inspired jewelry.
A Royal Touch to Your Glamorous Look
Fashionable and Comfortable
Our Leo Choker is designed for everyone. It easily fits around your neck, offering a comfortable wear without compromising on style. This makes it an ideal choice for those who value both comfort and fashion in their jewelry. If you're searching for a unique choker that combines style and comfort, look no further.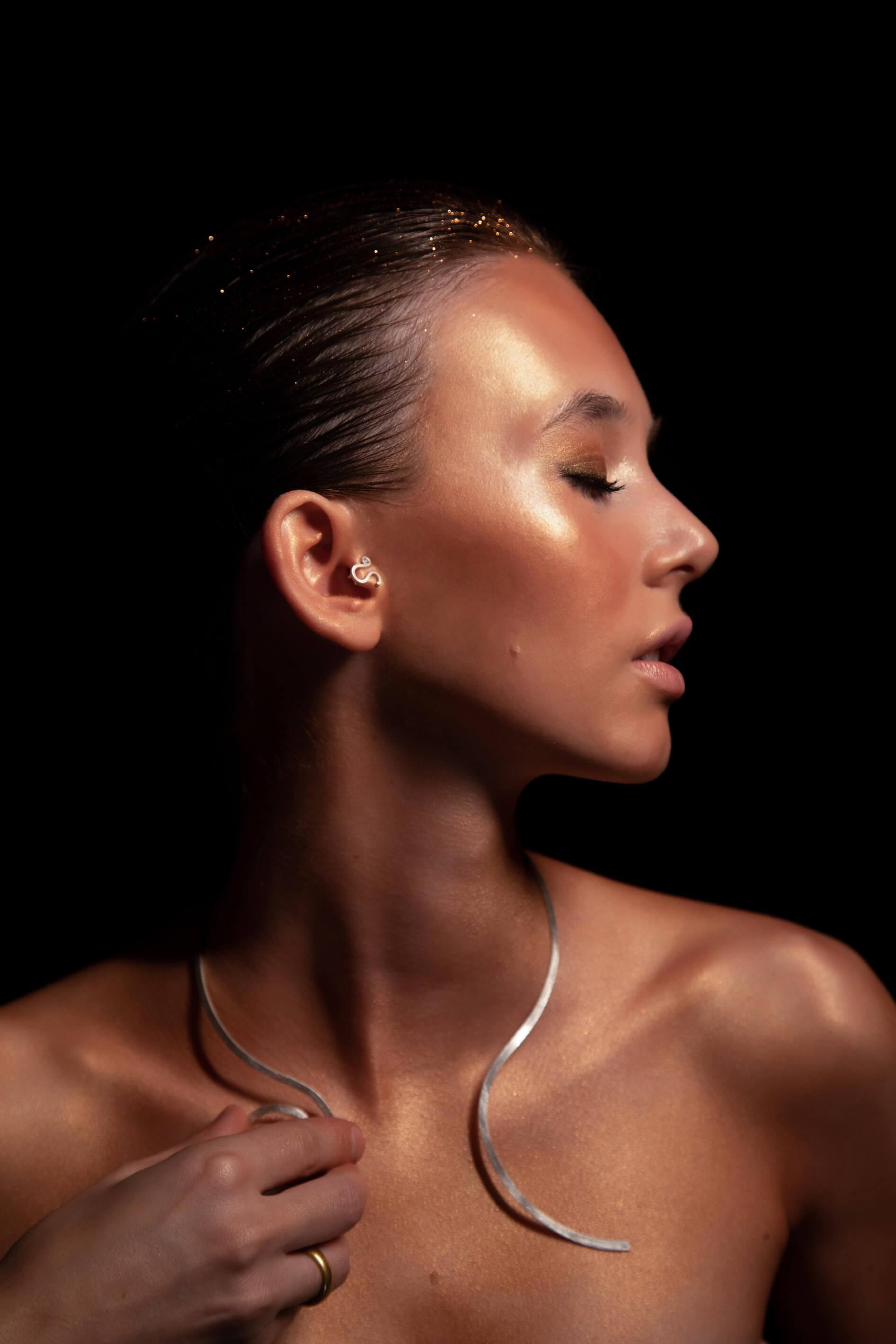 Handcrafted Quality with Our Unique Touch
Each Leo Diamond Choker is a testament to our commitment to quality and craftsmanship. Handcrafted by our skilled artisans, this piece features a carefully selected diamond known for its brilliance and clarity. The choker is made from high-quality silver, treated with our unique polishing process to give it a distinctive finish. With Mystic J, you're choosing more than just a piece of jewelry - you're choosing handcrafted quality that reflects our unique touch.
Inspired
the Royal Leo Zodiac Sign
Our unique Leo Jewelry designs draw inspiration from the most royal of zodiac signs - Leo. The Leo symbol, the lion, is the king of the jungle, representing bravery and playfulness. Leo also symbolizes love and passion, and is known for qualities like self-confidence, determination, passion, optimism, productivity, and creativity. Our offbeat designs combine the Leo and sun symbols to translate these outstanding features into fashion mystic jewelry.
★★★★★

Your customer service is outstanding, your packaging is stunning and the Aries Ring I have received so far are wonderful - great quality! Your Poster gift is fabulous. I usually hate getting posters but yours will be staying with me and used often - it's pretty enough to leave on my office wall ! But what I find most appealing is that your prices and quality are better than most other options. I could not imagine having such amazing handmade quality jewelry with this competitive price

Alicia Ramon

Spain
★★★★★

Very original and quality products, the designs are so unique, when I use them people always ask me where I bought them. The customer service is excellent too.

Isabel Bruno

Spain
★★★★★

The designs are gorgeous and do not go unnoticed, I loved everything, and I will surely buy again another time. Thank you.

Narimene Mouaci

Spain
★★★★★

This is the third piece of jewelry I've purchased from Mystic J. Top quality and a great company! This item was delivered quick and in a very nice Box. The detail is amazing, and the Leo bracelet is very comfortable to wear. Extremely pleased! Thank you

Lorena Rodriguez

Spain
★★★★★

Très beau et original. Des bijoux d'excellente qualité qu'on ne peut trouver nulle part ailleurs. Je suis très satisfaite des bijoux que j'ai acheté. Merci Mystic J

Charlotte

France
For a sophisticated modern look, pair Leo choker with other Leo accessories from our Astrology Collection. Create your personalized astrology-inspired look with our unique Leo jewelry.
Mystic J is all about expressing beauty, love, and freedom of the artistic soul most authentically. While being modern, stylish, and unique, we give back to the jewelry its primary purpose - meaning! Each piece of our sustainable precious jewelry communicates the essence and energy of esoteric, mystic, or historical symbols from the different cultures expressed in a unique style of symmetric Avant-garde. Discover avant-garde magic, Unique Contemporary Designs, Fine Mystic Jewelry, Ethically Handmade in Silver 925, 18K Gold, or 24K Gold.